Refills For All Locations EXCEPT Otter Creek and Jacksonville
Our new patient portal for prescription refills is now available! Simply login and follow the prompts to refill your prescriptions. If you have the RX Local app on your mobile device, please use the same login credentials (and be sure that your password meets the new security requirements). If you do not have the RX Local app, please create a new username and password.
Please contact your local Cornerstone Pharmacy with any questions. Download the RX Local app for easy and convenient access anywhere you are!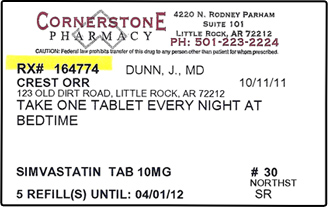 Highlighted area shows typical location for your refill number.
Refills Otter Creek and Jacksonville ONLY
Privacy Policy and HIPAA Compliance
Cornerstone Pharmacy takes your privacy and our data security very seriously.